Cezet International is a family business run by Cees (Chris) Welgraven and Lizette Welgraven. The company was founded in 1997. Cees has a HTS chemical technology background and has a long-standing experience, more than 50 years, built in the paint industry.
After many years of working with several well-known paint companies, Cees established a own paint production unit in 1997 under the name of Mutichem in Lubon Poland, specifically in the field of car repair bags. Cezet therefore sold the products under its leadership and produced by Multichem in the Netherlands, Belgium, Luxembourg and Germany.
The products sold by Cezet have built a very good name on the Dutch and foreign markets, these products were sold worldwide in more than 50 countries. In 2012, he sold his shares in Multichem to allow more time for Cezet International.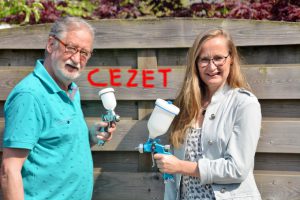 Cezet is also specialized in non-paint articles and Cezet has been able to supply a wide range of products for a number of large companies under private label. These products are produced by well-known producers in the non-paint market. Cezet now market these products under our own brand name and prove that good quality does not have to be expensive. 
The products are purchased directly from the manufacturer, packaged and marketed directly, see TOP QUALITY products at very attractive prices in our webshop.
Lizette is engaged in the (financial) administration, marketing and social media.
Cees and Lizet celebrate this year's 20th anniversary of their family company Cezet and hope to be able to serve you for many years.